IMUSIL
Imusil, our proprietory ayurvedic supplement is developed to reduce oxidative stress in patients and thereby help to reduce fatigue associated with most chronic diseases.
Role of NADPH oxidase2 in Covid-19 patients
Nox2 (NADPH oxidase2) is overactive in Covid-19 patients as compared to non infected people and its level increases in severe cases admitted to ICU.  Covid-19 patients with thrombotic complications had higher Nox2 activation compared to event-free patients. Nox2 is responsible for artery dysfunction via production of reactive oxidant species. Oxidative stress by Nox2 activation is associated severe disease and thrombotic events in Covid-19 patients.
Imusil blocks NADPH oxidase2 and offers cardioprotection, hepatoprotection
Apocynin (4-hydroxy-3-methoxyacetophenone) is a major active ingredient of Kutki (Picrorhiza kurroa), a botanical plant used as an herbal medicine for treatment of a number of inflammatory diseases (major ingredient in Imusil). Apocynin is regarded as a specific inhibitor for NADPH oxidase2 in cell and animal models. Apocynin is known to inhibit NAPDH oxidase2 activity by interfering with the assembly of the cytosolic NADPH oxidase components with the membrane components.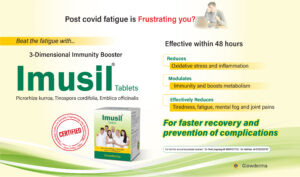 To understand if Imusil is advised for you or if you wish to purchase Imusil please contact us. Or Write to us at tariqjagmag@gmail.com or drkulkarni.anuradha@gmail.com
---
Glothione – Oral glutathione tablets
Oral glutathione tablets which offers bioavaliability was developed to offer ease of consuming glutathione orally rather than IV. It is an excellent oral anti oxidant pill which reduces free radicals from our body. Glutathione is used to protect the body from infection driven inflammatory damage and helps immune system in fighting infections. It also reduces oxidative stress and thereby help in most chronic disease conditions like Long COVID, diabetes, chronic muscle pain, back pain etc.
To understand if Glothione is advised for you or if you wish to purchase Glothione please contact us. Or Write to us at tariqjagmag@gmail.com or drkulkarni.anuradha@gmail.com
Learn more about COVID-19 and long COVID
To understand and learn more about COVID-19, Long COVID, the immunological pathways associated with the signs and symptoms of the infection and its management write to us at tariqjagmag@gmail.com or drkulkarni.anuradha@gmail.com. We offer 3 educational videos and handouts to help people especially medical practitioners learn more about COVID-19.
We also hold webinar series for health practitioners on Immunology, Immunological pathways of various chronic conditions and common homeopathic remedies which will teach you to integrate knowledge of homeopathics along with immunology and cytokines for better patient management. The ongoing webinar series is the next step in understanding homeopathic remedies and cytokines from the immunology point of view for various chronic diseases.
We conduct the webinars on alternate sundays via Zoom (twice a month) and the webinar videos are uploaded on the website along with educational material as we progress with the course. If you wish to join the course kindly contact us for further details.
Doctor consult for your chronic health conditions
Are you looking for more information or would like to find a solution for yourself or someone you love? We can offer doctor consultation to help you manage your health better.
If you are a patient who is suffering from Long COVID-19 or any other chronic health condition and need help, contact us with your basic details and one of our panel doctor will get in touch with you for taking detailed history and formulate a recovery plan based on your symptoms. We have a team of doctors across globe with expertise in varied fields. Based on your health condition, location and inputs of your symptoms, test results we will allocate one of the doctors best suited for your needs. They will further ask you details which are pertinent to your case and consult other doctors on panel if needed.
Write to us at tariqjagmag@gmail.com or drkulkarni.anuradha@gmail.com
Imusil