What is long COVID?
Long COVID is present in a person when the symptoms of COVID-19 such as fatigue, persistent cough, chest pain, exertional dyspnea (breathlessness), cognitive or mental disturbances, arthralgia (joint pain), declined quality of life etc persist after a negative RTPCR. The symptoms are still present after 12 weeks of becoming COVID-19 negative through lab test.
Symptoms of Long COVID :
Fatigue, muscular weakness, joint pain

Cardio-pulmonary symptoms – persistent cough, shortness of breath, reduced physical capacity, palpitations, high BP, chest pain etc

Gastric symptoms – diarrhea, stomach cramps, lack of apetite

Lack of smell or parosmia

Hairfall

Neurological – mental slowing, anger, depression, anxiety bouts, palsy, sleep disturbances

Acute kidney disease
Pathophysiology of long COVID – a comprehensive and clear explanation by Dr Tariq Jagmag at the platform of World Council for Health
Pictographic representation of Long COVID symptoms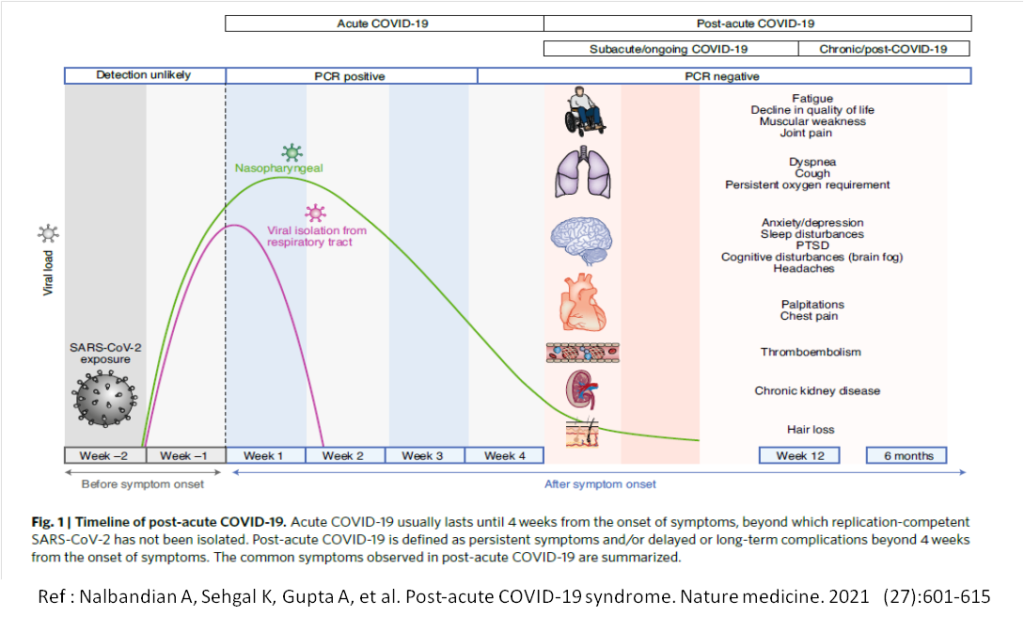 Purchase products
If you wish to purchase products to help you with long COVID symptoms
If you are a patient who is suffering from Long COVID-19 and need help, contact us with your basic details and one of our panel doctor will get in touch with you for taking detailed history and formulate a recovery plan based on your symptoms. We have a team of doctors across globe with expertise in varied fields. Based on your health condition, location and inputs of your symptoms, test results we will allocate one of the doctors best suited for your needs. They will further ask you details which are pertinent to your case and consult other doctors on panel if needed. 
Write to us at tariqjagmag@gmail.com or drkulkarni.anuradha@gmail.com
For more information on how the reports are read and accordingly manage patients contact us to receive the full video and handouts on long COVID and post vaccination injuries. 
We also hold webinar series for health practitioners on Immunology, Immunological pathways of various chronic conditions and common homeopathic remedies which will teach you to integrate knowledge of homeopathics along with immunology and cytokines for better patient management. The ongoing webinar series is the next step in understanding homeopathic remedies and cytokines from the immunology point of view for various chronic diseases.
We conduct the webinars on alternate sundays via Zoom (twice a month) and the webinar videos are uploaded on the website along with educational material as we progress with the course. If you wish to join the course kindly Contact us or Click here for more details
Write to us at tariqjagmag@gmail.com or drkulkarni.anuradha@gmail.com
Long COVID-19